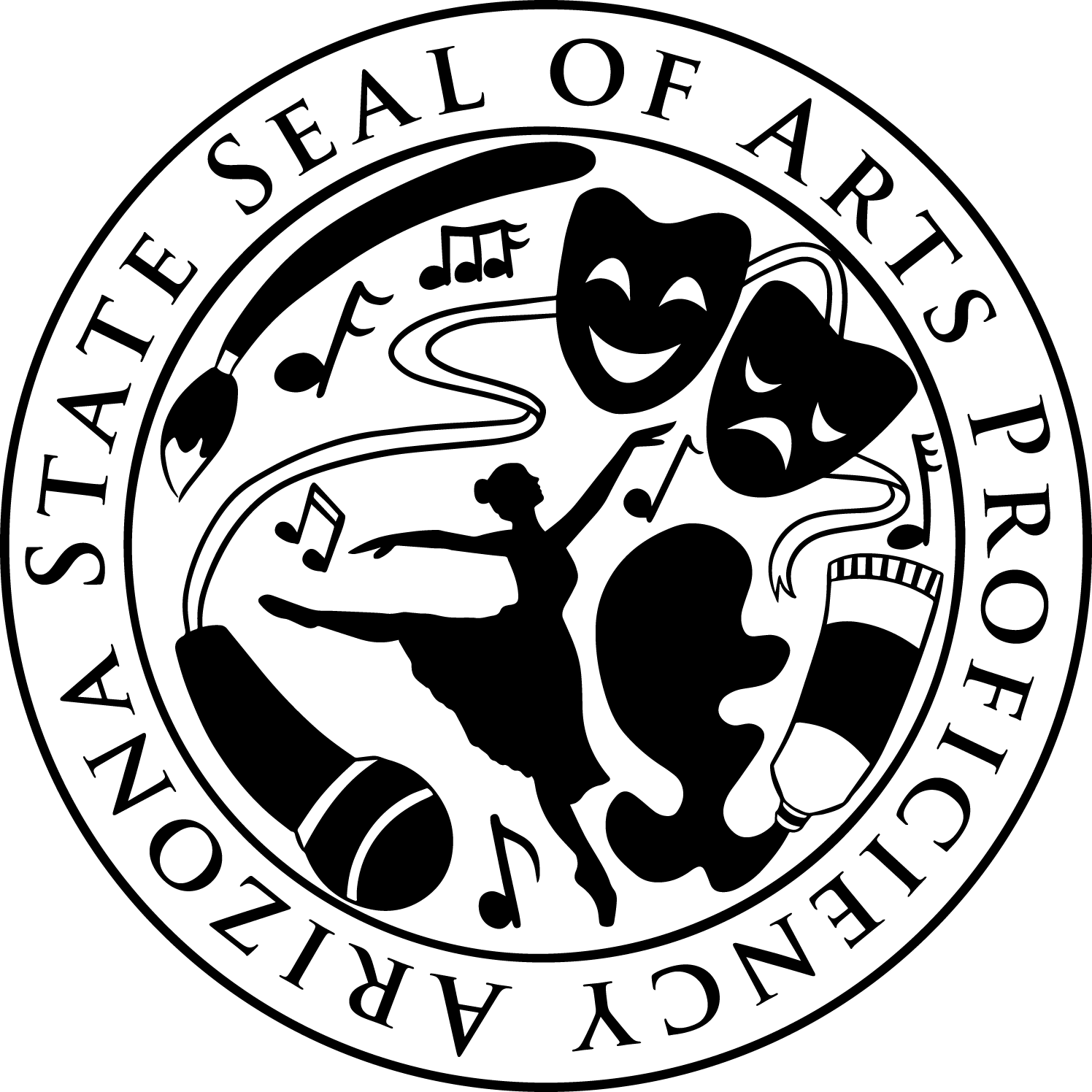 The Arizona State Seal of Arts Proficiency is an award made by the Catalina Foothills School District and the Arizona Department of Education to recognize graduating seniors who complete arts pathway requirements throughout their high school career. The Seal will be placed on the an eligible student's diploma and will also be noted on the student's transcript. Students who earn this award will also be recognized by the Catalina Foothills School District Governing Board.
Seal Objectives
The purpose of the seal is to (1) celebrate students who demonstrate high levels of proficiency in the Arizona Arts Education Standards through personal expression and creative experiences in arts education programs, (2) cultivate artistic literacy and skills for 21st century success, (3) prepare students for college and career readiness, including active participation in the creative arts sector, and (4) promote increased access to high quality arts education.
Arts programs are an essential part of a well-rounded education system.
Requirements
CFSD students seeking the State Seal of Arts Proficiency must meet the following requirements:
1. A final GPA of 3.0 or 4.0 in each qualifying arts/career and technical education (CTE) course.
2. 4 minimum credit requirements in one of the following ways:

• A minimum of 4 credits in one artistic discipline: music, theatre, visual arts, media arts, or dance
OR
• 3 credits in one artistic discipline and 1 qualifying creative industries CTE credit or separate artistic discipline.
OR
• 2 credits in one artistic discipline and 2 credits in a qualifying creative industries class or a separate artistic discipline.
3. A minimum requirement of 80 hours of arts related extracurricular activities during the student's high school career. The hours are pro-rated as follows until 2023: 60 hours for 2022 seniors and 80 hours for 2023 seniors and all subsequent years.
Extracurricular activities are defined as any arts participation above and beyond the regularly scheduled school day for which students are not receiving course credit. The activities may be school sponsored or take place outside of the school day or building.
4. A student-led capstone project of choice that showcases their artistic literacy - the culmination of knowledge, skills, and experience. The capstone project, evaluation, and reflection need to be completed prior to April 15 of the year of the student's graduation.
CFSD Seal of Arts Proficiency Awards by Graduation Class
Qualifying CFSD Fine Arts and Career & Technical Education Courses
State Seal of Arts Proficiency Brochure
Arizona Department of Education 2021-2022 State Seal of Arts Year End Report